Al Faisal Constructions and Management Engineers (AFC&ME) is an extremely professional and trust worthy Design, Construction & Management firm. The firm has entered the business with a leadership that has strategic design, in-depth expertise and a vision for future. The team holds decades of experience in managing projects and undertaking civil engineering marvels in a most professional manner.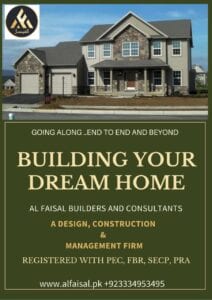 The firm is registered with Pakistan Engineering Counsel  (PEC) as a Category C-4 firm. Additionally,  the firm has been registered with SECP, FBR, PRA, MES and other major constructions and related organizations and government and semi-government departments.
In Construction, the firm takes on residential as well as commercial projects and deliver tastefully designed, elegant and  innovative solutions. With a very hard working and professional team of project management experts, the firm provides a complete blue print of the management plan of the projects.  The firm also specializes in latest and modular marketing, sales, management and sustainability services. The firm is a trusted vendor of ArchiconGlobal.
VISION
Adding Value to Our customers Lives and Business by providing beyond turn key Construction & Management Solutions.
MISSION
To grow as a reliable and professional construction company which goes beyond the turn key solutions and hence build relationships and partnerships with our valued costumers as well as employees.
Grow as a reliable, competent and professional Construction and Management PARTNER for our clients by providing BEYOND TURN  KEY SOLUTIONS & SERVICES
Develop sustainable, modular and exclusively designed infrastructure as well as business solutions.
Provide wholesome and all-encompassing Project Management edifice.
Company Introductory Video: https://www.youtube.com/watch?v=PK1rpeZoorU
Facebook: https://web.facebook.com/alfaisalconstructions/
website: www.alfaisal.pk
ceo@alfaisal.pk